Free design consultation
Custom design
Professional installation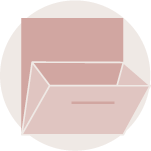 Hamper
Keep dirty clothes out of sight until laundry day with a convenient pull-out hamper.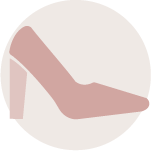 Shoe Shrine®
Put your favorite shoes on display with the adjustable Shoe Shrine®.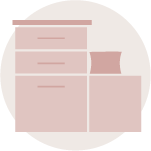 Closet Peninsula 
Add some extra storage and seating space with a functional walk-in closet peninsula.
LET'S DO THIS TOGETHER.
SCHEDULE YOUR FREE CONSULTATION TODAY!
Please share your information below and one of our design consultants will be in touch within 48 hours to set-up a free in-home or virtual consultation.
"*" indicates required fields
Custom Walk-in Closets in Flagstaff
Walk-in closets might look like they have a lot of room, but if all that room isn't designed with purpose, you can quickly run out of space in your closet. It's a common problem for our Flagstaff area clients. They tell us that there is a lot of wasted space in their walk-in closet, which leads to disorganization or unattractive stacks of folded clothes that tend to topple over. When they reach out to us, they're excited to learn that we completely redesign spaces using clever features and intuitive walk-in closet designs.
Before we begin designing anything, we engage in a consultation with you to talk about your frustrations with your space and what your ideal closet looks like. Don't worry, you don't have to know the exact design of your custom walk-in closet. Our Flagstaff-based designers are able to take insights from the consultation and create design options that fulfill your needs, and your wants. Our goal is to design a walk-in closet system that makes your life easier. We do that by adding built-in drawers, short and long hanging rods, adjustable shelves, and a Shoe Shrine™ for all of your sneakers, boots, sandals, and pumps.
Each and every one of our clients is unique, and we believe that your closet should be unique, too. You can trust that none of our designs are identical. On this page, you can find some examples of custom walk-in systems for Flagstaff clients so you can better understand the level of quality and attention to detail in our work. A talented designer will work with you every step of the way, from the initial consultation through the installation. Call us today to schedule your free consultation and begin the process. Or, complete our online consultation request form.
Learning Center
We invite you to visit the Inspired Closets Learning Center. Our library of resources are sure to help you learn more about custom home organization and provide you with tips and ideas to tackle your next project.
Learn More