Free design consultation
Custom design
Professional installation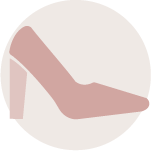 Shoe Shrine®
Give all your shoes a home, from your tallest boots to your smallest flats.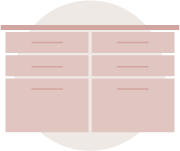 Closet Island
Bring extra storage, functionality, and elegance to your boutique style closet.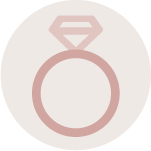 Jewelry Organizers
Keep your valuables organized and accessible with simple drawer liners.
LET'S DO THIS TOGETHER.
SCHEDULE YOUR FREE CONSULTATION TODAY!
Please share your information below and one of our design consultants will be in touch within 48 hours to set-up a free in-home or virtual consultation.
"*" indicates required fields
Boutique Closets in Fort Wayne, Indiana
Imagine an elegant walk-in closet with luxury features that make you feel like you've entered your favorite high-end boutique, designed just for you. That's the beauty of a customized boutique closet from Inspired Closets Fort Wayne. Our expert team will create a custom space that not only keeps your life organized, but helps you feel inspired and empowered whenever you use it.
Through our collaborative four-step process, our team will work closely with you to design your boutique closet. First, our team will meet with you for a consultation. In this initial meeting, we'll examine your current walk-in closet, taking careful measurements, before discussing the closet's strengths and weaknesses. We'll discuss how the current closet meets your needs, falls short, and talk about ways to improve it.
After we get a detailed understanding of your lifestyle and goals, we'll start designing a custom boutique closet that not only looks beautiful, but also helps you live a more organized and efficient life. In our design process, we'll create a 3D rendering of your new closet, complete with elegant, space-saving solutions, like a Shoe Shrine®, beautiful lighting features, or even a walk-in closet island. This 3D rendering helps you visualize the new space.
Our process is highly collaborative and we encourage feedback at every point because we want you to absolutely love your new space. Once the design is finalized, we'll move on to the third step: preparing for your new boutique closet. If cleaning out your closet feels overwhelming, let us know. We can supply you with garment racks to help keep your clothing organized and easily accessible while we work to transform your space. Once preparation is complete, we'll move to the fourth step and set an appointment for installation. In just a few days, we can fully transform your old closet into a custom boutique closet that meets your needs.
To get started on a custom boutique closet in Fort Wayne or nearby cities like Dunn Mill and Crestwood, contact Inspired Closets. You can also stop by our showroom today to see our designs.
Learning Center
We invite you to visit the Inspired Closets Learning Center. Our library of resources are sure to help you learn more about custom home organization and provide you with tips and ideas to tackle your next project.
Learn More