Free design consultation
Custom design
Professional installation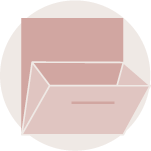 Hamper
Keep dirty clothes out of sight until laundry day with a convenient pull-out hamper.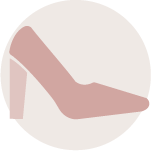 Shoe Shrine®
Put your favorite shoes on display with the adjustable Shoe Shrine®.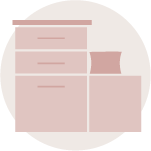 Closet Peninsula 
Add some extra storage and seating space with a functional walk-in closet peninsula.
LET'S DO THIS TOGETHER.
SCHEDULE YOUR FREE CONSULTATION TODAY!
Please share your information below and one of our design consultants will be in touch within 48 hours to set-up a free in-home or virtual consultation.
"*" indicates required fields
Custom Walk-In Closets in Fort Wayne, Indiana
By definition, a walk-in closet has more space than your typical reach-in — but that doesn't mean that a walk-in closet can't get cluttered. Without an organizational system that is customized to your belongings and day-to-day needs, it's all too easy for items to end up where they don't belong and make even a large space feel messy. Luckily, Inspired Closets Fort Wayne can help you customize your walk-in closet with space-saving and clutter-reducing solutions like hanging rods, built-in drawers and trays, a Shoe Shrine®, and more.
Through our easy, collaborative four-step process, we can transform your walk-in closet into a customized walk-in closet with an organization system tailored to your specific needs. The process starts with a one-on-one consultation. We'll meet with you in your home to take a look at your current walk-in closet, take measurements, and have a robust conversation about how you use it — and how it could be better.
With that information, the Inspired Closets team will design a 3D rendering of a new custom walk-in closet with space-saving options specially considered with your lifestyle in mind. You can look over the design and decide if you'd like to make any changes. Don't hesitate to give us your most honest feedback here, as we want to create an organizational solution that truly works for you.
Once you've approved the final design, we'll schedule a day and time to install your custom walk-in closet. In just one or two days, the installation is done, and you'll instantly feel the calming difference that a custom organization solution makes.
We'd love to help you create the organized and comfortable home you want with your very own custom closet. If you're looking for a customized walk-in closet in Fort Wayne, Indiana or surrounding areas like Dunn Mill and Crestwood, call Inspired Closets today or take a look at our designs in our showroom.
Learning Center
We invite you to visit the Inspired Closets Learning Center. Our library of resources are sure to help you learn more about custom home organization and provide you with tips and ideas to tackle your next project.
Learn More