Free design consultation
Custom design
Professional installation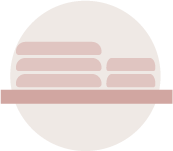 Folding Counter
Say goodbye to piles of clean clothes with a convenient folding counter.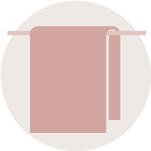 Drying Rack
Give delicate items a dedicated space to dry with a fold-out drying rack.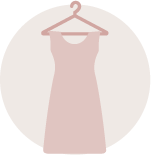 Hanging Station
Avoid wrinkles and allow clothing to air-dry with out-of-the-way hanging rods.
LET'S DO THIS TOGETHER.
SCHEDULE YOUR FREE CONSULTATION TODAY!
Please share your information below and one of our design consultants will be in touch within 48 hours to set-up a free in-home or virtual consultation.
"*" indicates required fields
Custom Laundry Room Cabinets in Fort Wayne, Indiana
Most people are not fans of doing laundry. It's a time-consuming chore that can easily consume an entire day or weekend, and without the proper organizational solutions in your laundry room, it can quickly get out of hand. Fortunately, Inspired Closets Fort Wayne has the tools and experience to put those organizational solutions into action, and make laundry day more enjoyable.
Laundry is a chore that tends to create stress. The piles accumulate on the floor or baskets get piled high and topple over. The Inspired Closets team can use space-saving organization solutions to help tame the chaos that can take over the laundry room. In your custom laundry room, we can incorporate a dedicated folding counter, hideaway laundry hampers, custom laundry room cabinets, hanging rods, and even a pull-out ironing board. These functional features can change your laundry room from a place of clutter and stress to a place of renewal and inspiration.
We can transform your laundry room using our simple four-step process. It starts with a one-on-one consultation, during which our team meets with you to assess your current laundry room. We'll discuss what you like and dislike about your current setup, and what needs to be better. This allows us to determine which features will work best for your custom laundry room. With insights from the consultation, we can start designing. Our team will render a detailed 3D image of your new custom laundry room, and you'll have the chance to think about it and give us your input and feedback, so we can create the best possible solution for you.
Once the design is approved, we'll set up a day and time for installation. In just one or two days, your old laundry room will be transformed into a well-organized and functional space that allows you to finish the chore in a fraction of the time. To find out more about our custom laundry room organization in Fort Wayne, Indiana or surrounding areas like Dunn Mill and Crestwood, call today or see our designs in person at our showroom.
Learning Center
We invite you to visit the Inspired Closets Learning Center. Our library of resources are sure to help you learn more about custom home organization and provide you with tips and ideas to tackle your next project.
Learn More