Murphy Bed
Double your space without renovating a thing!
Free design consultation
Custom design
Professional installation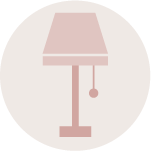 Lighting
Illuminate cubbies, drawers, and the pages of your favorite book.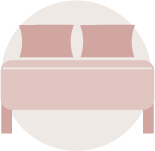 Queen Size Mattress
Make your guests feel welcome with a comfortable and spacious sleeping area.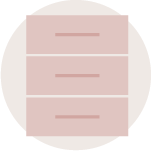 Side Cabinets
Create functional storage with Murphy bed side cabinets and drawers.
LET'S DO THIS TOGETHER.
SCHEDULE YOUR FREE CONSULTATION TODAY!
Please share your information below and one of our design consultants will be in touch within 48 hours to set-up a free in-home or virtual consultation.
"*" indicates required fields
Murphy Beds and Wall Beds in Hawaii
When guests come to town, they appreciate being offered a comfortable place to rest. But not everyone has a dedicated guest room in their home. The Murphy bed, or wall bed, is the perfect solution. A Murphy bed is housed inside a cabinet, which means you can unfold it when family and friends are visiting then, when they leave, tuck it back into the cabinet, freeing up much needed space. Adding a Murphy wall bed to your Hawaii home is a unique and effective way to maximize the functionality of your space.
At Inspired Closets Hawaii, we work hand in hand with you to design and install the right Murphy bed for your space and lifestyle. We can customize the shelves and cabinets to your needs, or add integrated desks and bookcases to the design. Our talented designers make every design decision with your wants and needs in mind. Our expertise enables us to recommend designs that take advantage of the space in your home while maintaining your style and home decor. We design and install Clei beds, wall beds, and Italian Murphy beds for Hawaii residents across all islands.
About Clei Murphy Beds
Our wide collection of wall beds includes Clei Murphy beds from Italy. The furniture and components transform for maximum versatility. Use the same square footage in your home to serve multiple functions. Our Kali Duo transforms from a bunk bed to a twin bed or a desk or sofa. Our LGM bed looks like 36 feet of bookshelves and a flip-up desk then rotates around to reveal a hidden queen size bed. Our Penelope, Swing and Tango beds transform from a sofa to a bed and back. The options are nearly endless with many models to choose from.
We offer multiple sofa layouts for Clei Murphy beds we install in Hawaii homes. Choose from a range of sofa sizes, arm widths, and bed sizes. You can also customize the colors and fabrics for your Clei Murphy bed to achieve a modern aesthetic unique to your home's decor. Add a bed to any room in the home, from the guest bedroom to the living room to the dining area, to create a true multi-functional space.
Murphy beds and Clei beds are ideal for small condos where you need to use the same space for different functions. They're also great for vacation homes, guest rooms or short-term rentals. Our professional team will take care of the entire installation, which usually takes a day or two. We are based in Oahu but work on homes throughout the Hawaiian Islands. Call us today to schedule a free consultation or stop by our Oahu showroom.
Trending Designs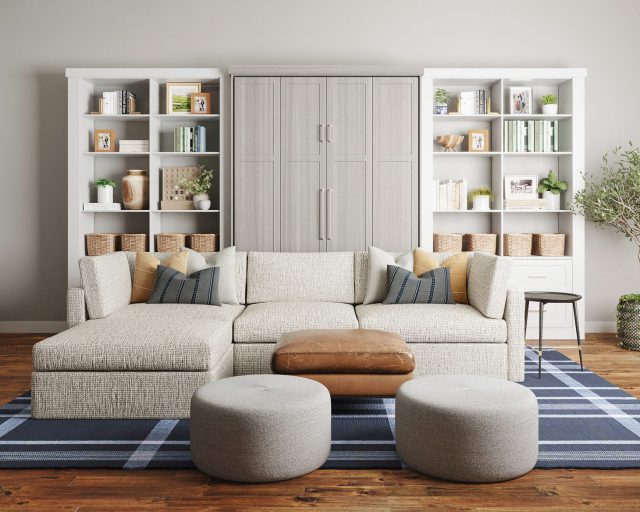 Shared Space
A Murphy bed tucks away neatly into storage cabinets, so it can fit into any room of your home. Turn your home office or basement entertainment area into a guest room in seconds.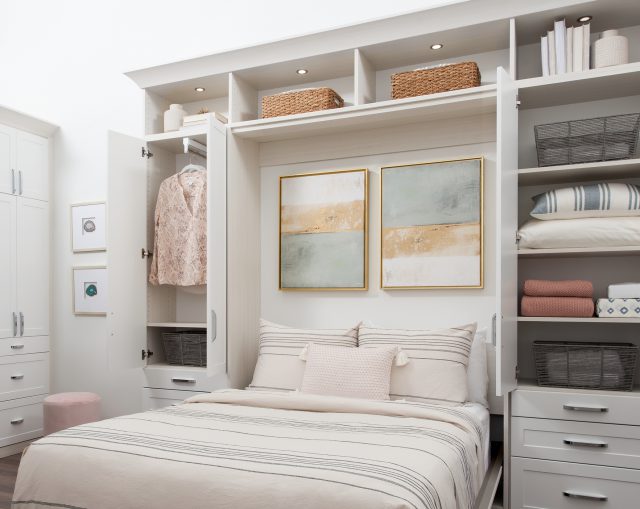 Hidden Storage
Our Murphy bed storage system includes drawers and hanging rods for all your guests' needs. Storage cabinets allow space for pillows, blankets, pajamas, and extra sheets.
Learning Center
We invite you to visit the Inspired Closets Learning Center. Our library of resources are sure to help you learn more about custom home organization and provide you with tips and ideas to tackle your next project.
Learn More