Murphy Bed
Double your space without renovating a thing!
Free design consultation
Custom design
Professional installation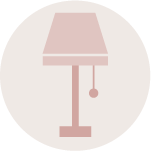 Lighting
Illuminate cubbies, drawers, and the pages of your favorite book.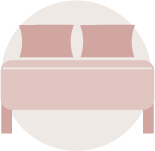 Queen Size Mattress
Make your guests feel welcome with a comfortable and spacious sleeping area.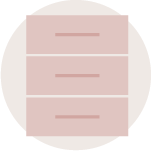 Side Cabinets
Create functional storage with Murphy bed side cabinets and drawers.
LET'S DO THIS TOGETHER.
SCHEDULE YOUR FREE CONSULTATION TODAY!
Please share your information below and one of our design consultants will be in touch within 48 hours to set-up a free in-home or virtual consultation.
"*" indicates required fields
Murphy Beds in Las Vegas
Give your guests a good night's sleep in a space where they can truly rest. With an Inspired Closets Murphy bed, also known as a wall bed, Las Vegas area homeowners can transform their exercise room, home office, or any other space in the home into a short-term guest room. It's the most practical way to increase the functionality of your home without the investment of a timely renovation. Whether you regularly host guests or would like to have the option to host them, a Murphy bed gives you a spare bed only when you need it.
In order to meet the diverse needs of our Las Vegas area clients, we offer a wide selection of Murphy bed designs. Choose from several basic designs, then customize the colors and materials to your home with the help of our talented designers.
Murphy bed Features Loved by Customers
At Inspired Closets Las Vegas, we believe in the transformative power of custom organization. We've witnessed how functional, organized spaces can improve the way people live their lives. Murphy beds allow homeowners the flexibility to create a spare bedroom when they need it and tuck it away when they don't. Our clever organization features are intuitive and adjustable, letting you maximize space while not appearing cluttered.
We can add shelves, cabinets, drawers, and integrated desks to your Murphy bed to improve the functionality of your space and make it unique to you. Your guests will be able to unpack and rest comfortably in a space of their own.
The Murphy bed process begins with a one-on-one consultation with one of our expert designers. We will ask you questions about how you plan to use your space, and then listen as you explain your expectations for your custom organization. Together, we'll design a solution that fits your wants and needs. Our initial consultation will inform the design, from the overall layout to the colors, finishes, and hardware we select. And we'll respect your budget as we make thoughtful recommendations.
Most of our Murphy beds can be installed within one day. Make the most out of the space you have with an Inspired Closets Murphy Bed.
Don't stress about where to put guests. After our simple, four step-process, you and your guests will rest comfortably. We have designed and installed Murphy beds for hundreds of Las Vegas area homeowners, and we would love to help you. Visit our Las Vegas showroom to see Murphy bed designs and get inspired. Or, call to schedule your in-home consultation.
Trending Designs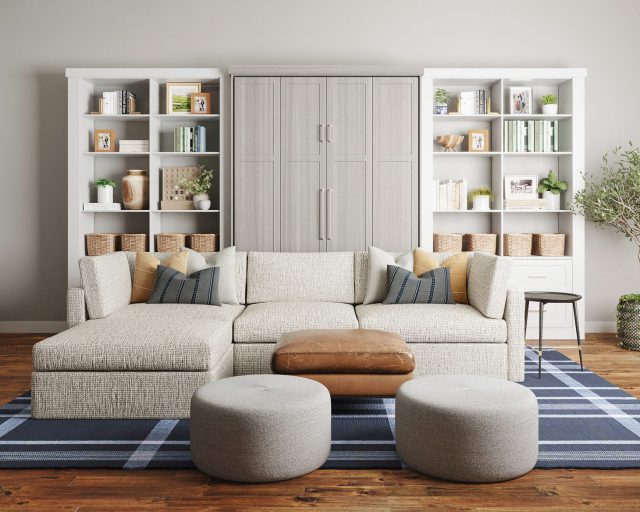 Shared Space
A Murphy bed tucks away neatly into storage cabinets, so it can fit into any room of your home. Turn your home office or basement entertainment area into a guest room in seconds.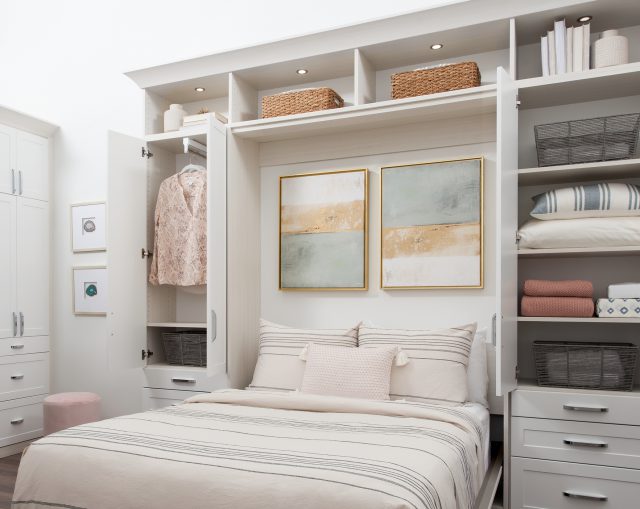 Hidden Storage
Our Murphy bed storage system includes drawers and hanging rods for all your guests' needs. Storage cabinets allow space for pillows, blankets, pajamas, and extra sheets.
Learning Center
We invite you to visit the Inspired Closets Learning Center. Our library of resources are sure to help you learn more about custom home organization and provide you with tips and ideas to tackle your next project.
Learn More