Free design consultation
Custom design
Professional installation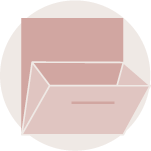 Hamper
Keep dirty clothes out of sight until laundry day with a convenient pull-out hamper.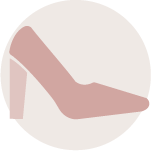 Shoe Shrine®
Put your favorite shoes on display with the adjustable Shoe Shrine®.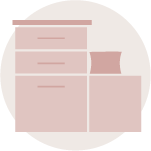 Closet Peninsula 
Add some extra storage and seating space with a functional walk-in closet peninsula.
LET'S DO THIS TOGETHER.
SCHEDULE YOUR FREE CONSULTATION TODAY!
Please share your information below and one of our design consultants will be in touch within 48 hours to set-up a free in-home or virtual consultation.
"*" indicates required fields
Custom Walk-in Closet Systems in Memphis, TN
Your closet appears to be big enough to hold all of your belongings, yet it still feels cluttered and disorganized. Sound familiar? Many Memphis area residents come to us with this complaint. The problem is that most closets are not designed for your lifestyle. At Inspired Closets Memphis, we transform disorganized, stressful closets with custom organization solutions that simplify your life.
Our team is passionate about custom organization because we've seen it work. Clients that once struggled to stay organized now find it effortless thanks to their custom walk-in closet. We start the process with a one-on-one consultation. We want to understand your frustrations with your current walk-in closet design, and how you want your new custom closet to look. Using our findings from the consultation, we use a blend of shelves, drawers, and intuitive features to maximize for organization and efficiency. We can add a Shoe Shrine™ to organize your sandals, boots, heels, and flats, or built-in hampers to keep dirty clothes off the floor. If your walk-in closet is big enough, we can add an island for folding clothes. We can also install adjustable shelves that adapt as your needs change over time. With a custom walk-in closet, you'll have full control of your organization.
Each custom walk-in closet system we design for Memphis, Berclair, Bartlett, and East Memphis area residents is completely unique, even down to the colors and hardware we select for the design. Our designers truly consider every detail. If you change your mind about the design, don't worry. We are patient and understanding as we make changes. Once you approve of the design, our Memphis-based closet installation crews get to work. It only takes one or two days to install your beautiful, functional custom walk-in closet. Call us today to schedule a free consultation and begin the process today. You are also welcome to visit our showroom in Memphis, TN to meet our team and view our work.
Learning Center
We invite you to visit the Inspired Closets Learning Center. Our library of resources are sure to help you learn more about custom home organization and provide you with tips and ideas to tackle your next project.
Learn More