Free design consultation
Custom design
Professional installation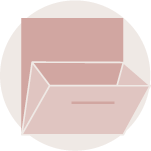 Hamper
Keep dirty clothes out of sight until laundry day with a convenient pull-out hamper.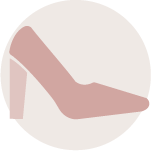 Shoe Shrine®
Put your favorite shoes on display with the adjustable Shoe Shrine®.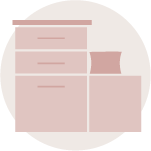 Closet Peninsula 
Add some extra storage and seating space with a functional walk-in closet peninsula.
LET'S DO THIS TOGETHER.
SCHEDULE YOUR FREE CONSULTATION TODAY!
Please share your information below and one of our design consultants will be in touch within 48 hours to set-up a free in-home or virtual consultation.
Custom Walk-In Closets In Tampa, Florida
Your walk-in closet has plenty of space, so why does it still feel cluttered? Chances are, it's not organized as efficiently as it could be. The extra space has turned into a storage area for the miscellaneous items you're not sure where to put in your home and so they end up in your closet.
Our Tampa clients often have concerns like these. They know there's a better way, and they know that the Inspired Closets Tampa team is the best company for the job. Our team can maximize any walk-in closet space by listening to your needs. Whatever your closet looks like, we're ready to help use up every inch of available space.
Our custom closet design and installation process is as simple and as intuitive as our organization methods. It starts with a consultation, where our team listens to your needs, visits your existing closet to take measurements and inventory of the items stored there. We'll also work with you to gain an understanding of your organizational goals, and what you do and don't love about your closet setup. Then our design team designs your new closet. We'll implement purposeful organizational methods like hanging rods or banks or drawers to keep your items where they need to be. We may also recommend a Shoe Shrine® to organize all of your shoes from boots and heels to flip flops and sneakers.
After you approve your custom design, we move to the installation phase. Our expert closet installation team works quickly and carefully to install your new walk-in closet. Contact us today for a free consultation or visit our Tampa showroom to find out more.
Learning Center
We invite you to visit the Inspired Closets Learning Center. Our library of resources are sure to help you learn more about custom home organization and provide you with tips and ideas to tackle your next project.
Learn More