Murphy Bed
Double your space without renovating a thing!
Free design consultation
Custom design
Professional installation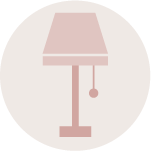 Lighting
Illuminate cubbies, drawers, and the pages of your favorite book.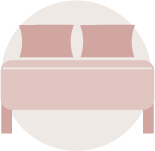 Queen Size Mattress
Make your guests feel welcome with a comfortable and spacious sleeping area.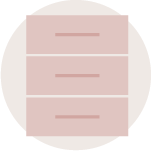 Side Cabinets
Create functional storage with Murphy bed side cabinets and drawers.
Schedule A Free Consultation
Please share your information below and one of our design consultants will be in touch within 48 hours to set-up a free in-home or virtual consultation.
"*" indicates required fields
When your guests come to visit your home, do you offer them a couch to sleep on? An air mattress, perhaps? These sleeping areas are acceptable for a night or two, but they're not the most comfortable. With a Murphy bed from Inspired Closets, you can easily provide your guests with a comfortable bed and their own storage space. A Murphy bed is a wall bed with closet storage, making it a convenient, space-saving feature ideal for small apartment spaces or those who want a flexible option for guests. 
A Murphy bed with a closet is highly functional and practical. But Inspired Closets Murphy bed closet systems are also beautifully designed and highly comfortable and blend in perfectly with your decor. Choose a twin-size, full-size, or queen-size mattress for your Murphy bed, depending on how much space you need for your guests. Our mattresses are made from high-quality materials, so your guests will get a great night's sleep. Our designs can also include Murphy bed closets, which surround the actual bed with drawers, bedside cabinets, integrated lighting, and even hanging rods to store clothing. And when morning comes, you can easily and safely tuck your bed back into your wall or cabinet system. 
Like every other Inspired Closets solution, you can fully customize your Murphy bed to meet your needs. Our designers can implement storage features that complement your home design and provide your guests with storage space. We can implement intuitive design features including nightstands, open or closed shelving options, cabinets with hanging rods, or even a fold-out desk. Our designs are as flexible and functional as the Murphy bed itself. 
If you're looking to maximize the space in your home without sacrificing a comfortable sleeping area for yourself or your guests, Murphy beds are the ideal solution. And if you decide to move from your home, you can take your Murphy bed closet system with you, ensuring you don't lose any value. Inspired Closets offers Murphy beds and closets in various design options. During our collaborative design process, you can select the colors and materials used, along with the sizes and configurations of storage and shelving units. 
Wondering what our customers think?
"Inspired Closets worked with my builder to design the four walls of my closet that would best fit our space."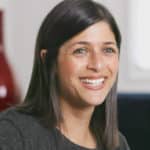 Nicki
Hear More From Clients Just Like You
Trending Designs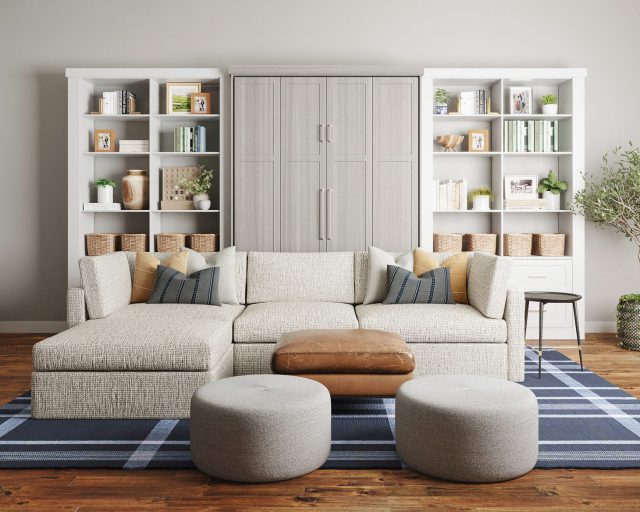 Shared Space
A Murphy bed tucks away neatly into storage cabinets, so it can fit into any room of your home. Turn your home office or basement entertainment area into a guest room in seconds.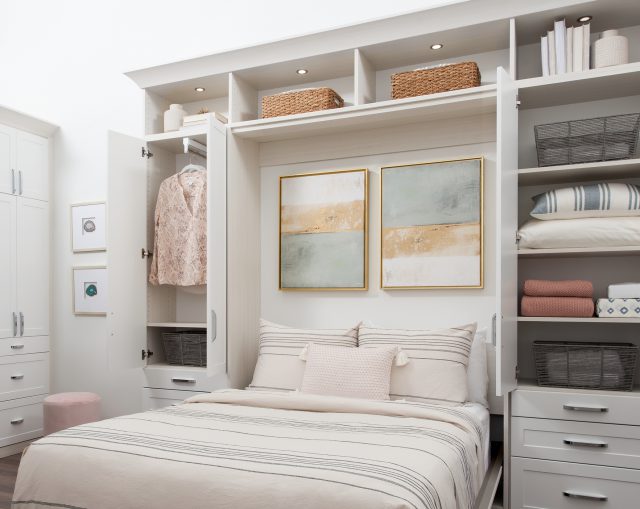 Hidden Storage
Our Murphy bed storage system includes drawers and hanging rods for all your guests' needs. Storage cabinets allow space for pillows, blankets, pajamas, and extra sheets.
Learning Center
We invite you to visit the Inspired Closets Learning Center. Our library of resources are sure to help you learn more about custom home organization and provide you with tips and ideas to tackle your next project.
Learn More