Nancy L. – Delmarva
Our walk-in closet was an ok size, but with one sad rod all the way around, it wasn't very functional, and there was a lot of wasted space. We procrastinated getting a closet system because we thought it would be a big hassle and require a lot of our time. We were totally wrong about that! David from Inspired Closets came to our house a few days after I contacted them. He measured everything and collected information about our closet needs. A week later we met to go over the plan. We made a few minor adjustments, and two weeks later everything was installed! It looks great, everything is organized and easy to find now. David is knowledgeable, professional, and the installers did a great job. I highly recommend them for your closet project or any other organizational needs.
"The closets you did for our salon were such a gift of space. Everything had a home. And we even had extra space. You took a small space and stylishly made it seem big. So wish I had your magic touch in my house here in Florida."
Watch Gretchen C – Dallas-Forth Worth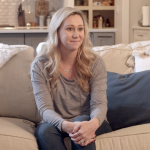 "This entire process was a lot easier than I expected. We were able to see our closet in 3D, making it easy for us to envision what we wanted. I am very pleased with the final result of my closet and my experience with Inspired Closets was just a dream come true!"
Watch Natalie's Story
"Our experience with Inspired Closets was absolutely a dream come true! We had our master closet, laundry room, pantry and upstairs hall closet done, and what an amazing difference it made."
Watch Victoria S – Delmarva