No. 1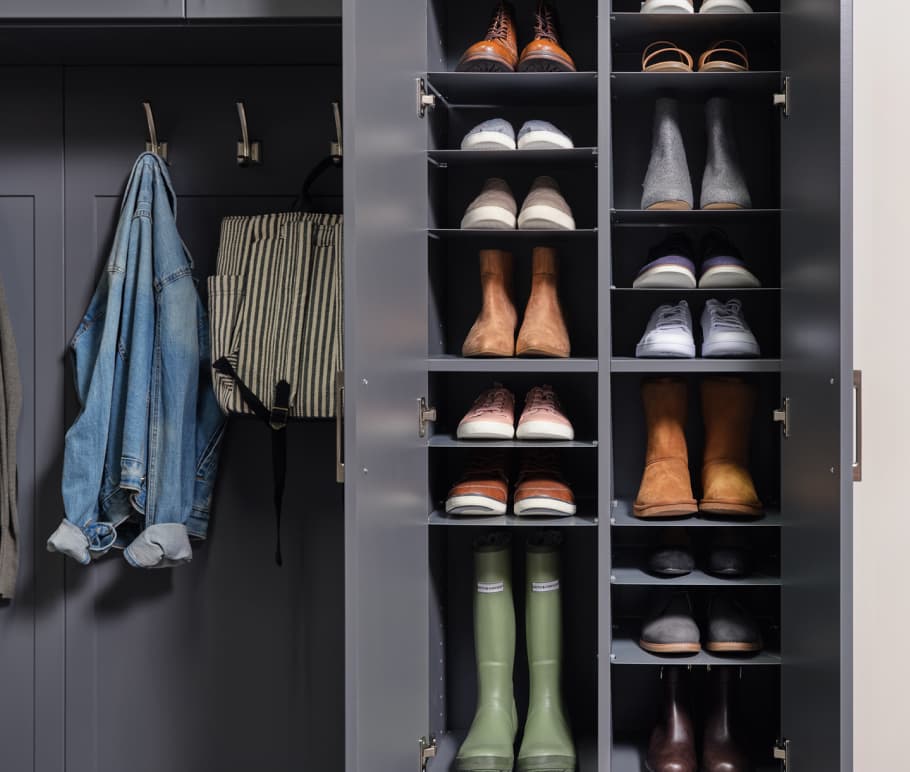 Shoe Organization Shelves—Shoe Shrine ®
Because it's the first room you enter when you get home, the entryway usually functions as a "catch-all" space—especially for shoes. If you don't have a shoe organization system, you'll likely end up with a pile of shoes next to the door that poses a tripping hazard and can also be an eyesore, making a stressfully small entryway feel even smaller.
When it comes to shoe organization, the Shoe Shrine® is a must. This small entryway organizer offers practical shoe storage shelves that help you keep all of your shoes together, off the floor, and easily accessible. You can adjust shelf heights to fit all sizes of shoes and change the configuration as your shoe collection evolves over time. Plus, Shoe Shrine® makes it easy to find the pair of shoes you want to wear without digging through a disorganized heap!
No. 2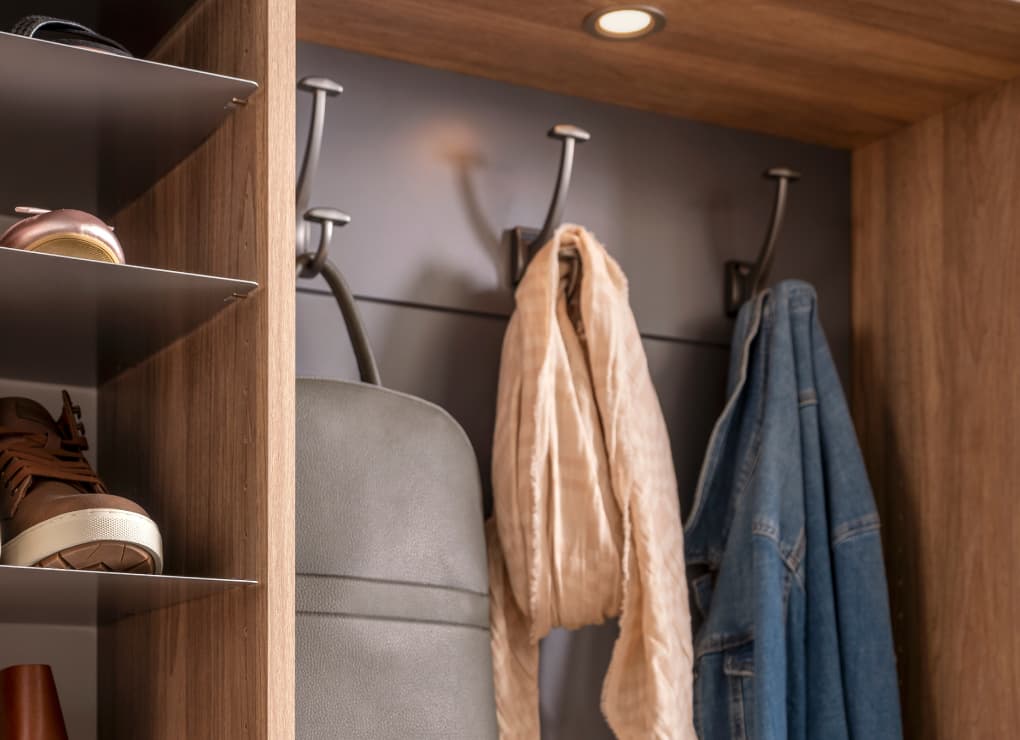 Hooks for Backpacks, Purses, Coats, and More
No matter how small your entryway is, you can always find space for hooks whether it's on the inside of the front door, the side of a storage cabinet, or the wall behind the door. Hooks are affordable, practical, and easy to install for front door storage. Plus, they can provide you with a visible and easily accessible place to house your car keys, purse, jackets, and anything else you may need as you dash out the door.
No. 3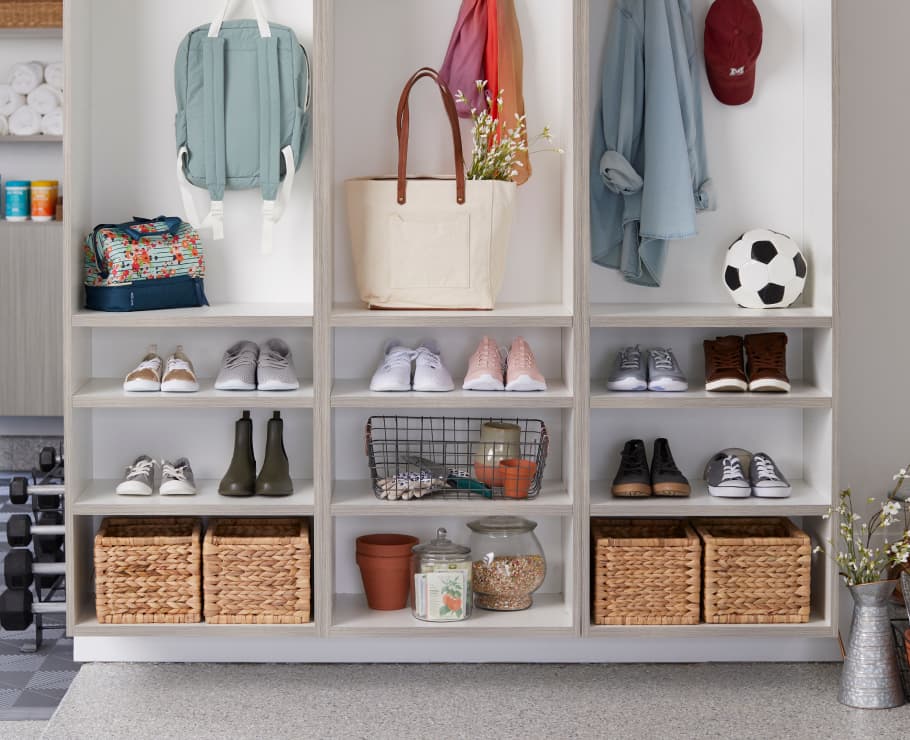 Floating Shelves and Cabinets
Understandably, homeowners with small entryways don't want organization systems that consume a lot of space. If you need small entryway shelf ideas, floating shelves are an excellent off-the-ground organization solution that add aesthetic flair and room for décor while also giving your mail, keys, wallet, loose change, and other miscellaneous items a home. If you take it one step further and opt for floating cabinets, you can even have drawers for storing dog leashes, sports gear, toys, umbrellas, and other items out of sight all while maintaining an airy, open feel in your small entryway.
No. 4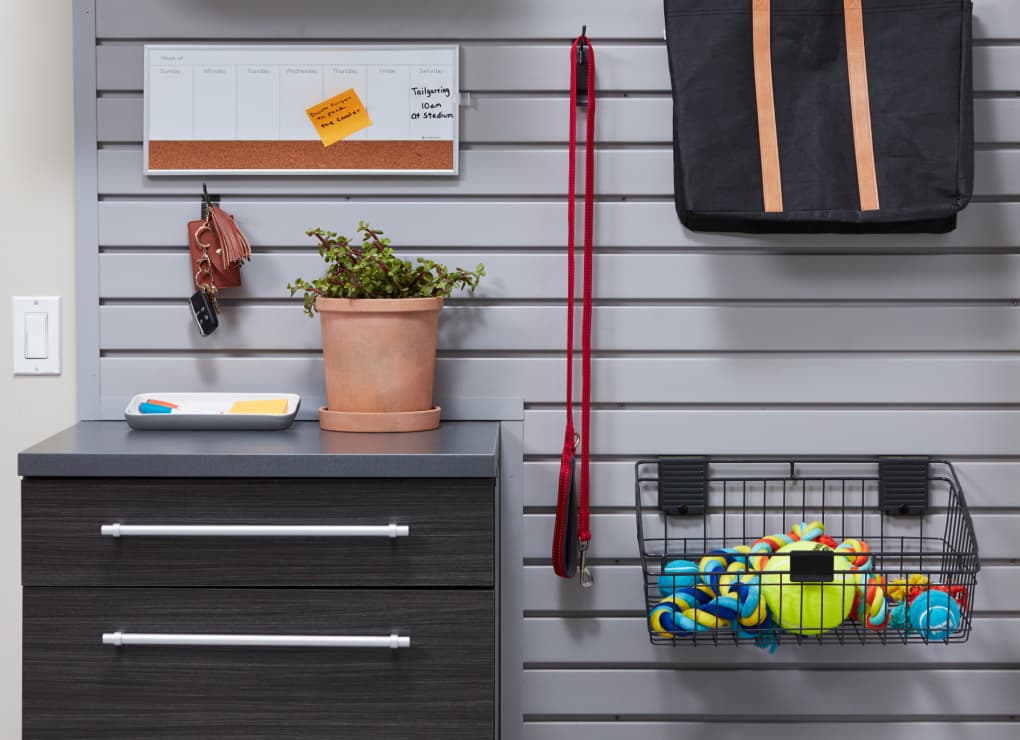 Slatwall & Baskets
When you need additional storage for a small entryway but simply don't have any room to spare for cabinets, your designer can add slatwall and baskets to your design. Baskets are a strategic, catch-all narrow entryway storage option that remove clutter. They're also fun décor items that can be affixed to your entryway wall to store mittens, scarves, earmuffs, sunglasses, swim goggles, and much more.
No. 5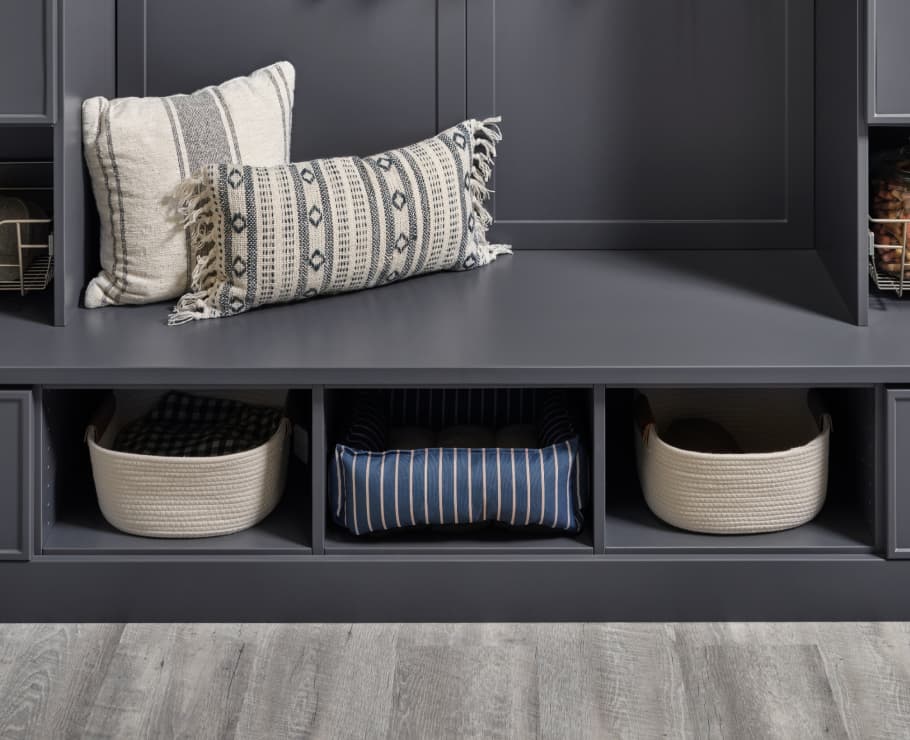 Bench Storage
Benches might sound like a cumbersome addition to an already-tiny space, but our designers are experienced at integrating a bench into a small entryway design. These particular benches add functionality and narrow entryway storage while making your limited space more practical. With a small bench, you'll have a spot to put your shoes on before you head out for the day. Plus, with the additional space underneath, we can add bins or cubbies so you can stow items like socks, hats, reusable shopping bags, diaper bags, or whatever else you may need to put away.