Free design consultation
Custom design
Professional installation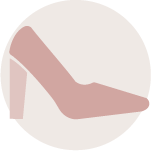 Shoe Shrine®
Give all your shoes a home, from your tallest boots to your smallest flats.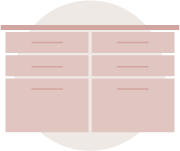 Closet Island
Bring extra storage, functionality, and elegance to your boutique style closet.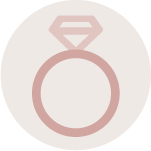 Jewelry Organizers
Keep your valuables organized and accessible with simple drawer liners.
LET'S DO THIS TOGETHER.
SCHEDULE YOUR FREE CONSULTATION TODAY!
Please share your information below and one of our design consultants will be in touch within 48 hours to set-up a free in-home or virtual consultation.
"*" indicates required fields
Boutique Walk-In Closets in Las Vegas
Your master walk-in closet should be a place where you can quickly and easily find what you're looking for. A place where the organization makes intuitive sense for what you own and the way you live. Because of their size, a custom boutique close can include design elements that truly make it easy to start and end every day organized. Features like a center island make folding clothes or packing for a trip easy. Because a custom boutique closet is typically the size of a small bedroom, it has ample space for a built-in dresser eliminating the need for that extra piece of furniture in your bedroom. With a custom master walk-in closet, you'll walk into a calm, relaxed space where everything has its place.
Our talented designers take the time to understand your unique wants and needs. Maybe it's jewelry that you love or maybe shoes are your thing, either way, a visit to your home and a conversation with one our designers is where the journey starts. We'll assess the size of your master walk-in closet and the things in it before we begin the design. During design, we will talk through colors and hardware ensuring the design seamlessly integrates with the rest of your home.
Our passionate, skilled team has designed and installed hundreds of custom boutique closets for Las Vegas area homeowners. We enjoy designing beautiful, functional spaces helping people get the most out of the space they have. Our reputation is built around exceptional customer service and high-quality custom closets. We want you to be confident in your decision to choose us, which is why we invite you to see what our Las Vegas area clients have to say about their custom closet design.
A custom master walk-in closet in your Las Vegas home is easier than you think. Through four easy and fun steps we will turn your closet into a stunning, inspiring room. Give us a call to start the process today.
Learning Center
We invite you to visit the Inspired Closets Learning Center. Our library of resources are sure to help you learn more about custom home organization and provide you with tips and ideas to tackle your next project.
Learn More