Free design consultation
Custom design
Professional installation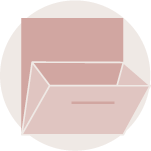 Hamper
Keep dirty clothes out of sight until laundry day with a convenient pull-out hamper.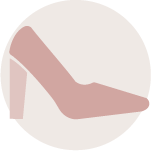 Shoe Shrine®
Put your favorite shoes on display with the adjustable Shoe Shrine®.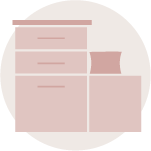 Closet Peninsula 
Add some extra storage and seating space with a functional walk-in closet peninsula.
LET'S DO THIS TOGETHER.
SCHEDULE YOUR FREE CONSULTATION TODAY!
Please share your information below and one of our design consultants will be in touch within 48 hours to set-up a free in-home or virtual consultation.
"*" indicates required fields
Custom Walk-in Closets in Milwaukee
The mix of clothing, shoes, and accessories you own are unique to you, so shouldn't your closet's design be just as unique? At Inspired Closets Milwaukee, we believe in the power of customization. Having a closet designed specifically for you makes getting and staying organized easier. When every hanging rod, shelf, and drawer is purposefully placed, your belongings are always in order and within reach.
We love creating custom walk-in closet designs for Milwaukee, Brookfield, and Waukesha-area residents, and our clients love having a space that's tailored to them. Because customization is our goal, it's important that we gain a good understanding of your lifestyle and daily routines before we begin designing. That's why the first step of our four-step process is a one-on-one consultation. We'll measure your closet's square footage, take inventory of the items inside, and talk with you about what you love — and don't love — about your current set-up.
If you feel like you have way too much space for hanging clothes yet not enough room for shoes, we can trade some hanging rods for a Shoe Shrine®. And if your walk-in closet is big enough, we may be able to add a bench or an island. We take care of everything, even down to selecting colors and hardware for your custom walk-in closet system to match your Milwaukee area home's decor. Transform your walk-in closet into an organized, inspired place. Give us a call, complete our online consultation request form, or visit our showroom in Milwaukee to schedule a consultation.
Learning Center
We invite you to visit the Inspired Closets Learning Center. Our library of resources are sure to help you learn more about custom home organization and provide you with tips and ideas to tackle your next project.
Learn More