Free design consultation
Custom design
Professional installation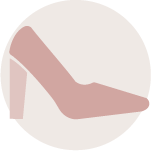 Shoe Shrine®
Give all your shoes a home, from your tallest boots to your smallest flats.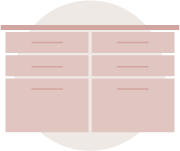 Closet Island
Bring extra storage, functionality, and elegance to your boutique style closet.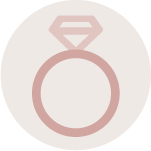 Jewelry Organizers
Keep your valuables organized and accessible with simple drawer liners.
LET'S DO THIS TOGETHER.
SCHEDULE YOUR FREE CONSULTATION TODAY!
Please share your information below and one of our design consultants will be in touch within 48 hours to set-up a free in-home or virtual consultation.
"*" indicates required fields
Boutique Walk-in Closets in San Francisco
Your master walk-in closet should be a relaxing place where it's easy to find what you're looking for. But for many San Francisco area residents, their closet can be a stressful, disorganized space. When your master walk-in closet is not designed for your belongings or lifestyle, maintaining an organized closet becomes difficult. Inspired Closets San Francisco creates custom master walk-in closets that simplify your life.
Our designers take the time to get to know you and your space so we can create a custom walk-in closet that is uniquely "you." If you need a space to fold clothes, we can add a center island that improves the functionality of your master closet. If shoes are your passion, your custom closet design could include a Shoe Shrine™ so you can keep your heels, boots, flats, and sneakers organized, visible, and within easy reach. Or, maybe a better spot for laundry is what you need. A built-in hamper keeps laundry out of sight. Our designers are masters of space design, using intuitive features to create a beautiful, functional master walk-in closet in your San Francisco home. Our designers recommend colors and hardware options that complement the existing decor in your home. We want to transform your master walk-in closet into a space that inspires you and makes you feel ready to take on the day.
Our professional, friendly team works hand-in-hand with you throughout the four-step process. When it's time for installation, our crew works quickly to set up your custom boutique walk-in closet in your San Francisco area home. We can typically install your custom closet within a couple of days. See what our Inspired Closets San Francisco clients have to say about their experience here. Call us today to schedule your free consultation and start the process.
Learning Center
We invite you to visit the Inspired Closets Learning Center. Our library of resources are sure to help you learn more about custom home organization and provide you with tips and ideas to tackle your next project.
Learn More