Free design consultation
Custom design
Professional installation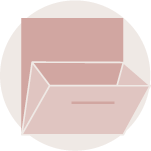 Hamper
Keep dirty clothes out of sight until laundry day with a convenient pull-out hamper.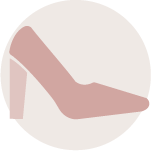 Shoe Shrine®
Put your favorite shoes on display with the adjustable Shoe Shrine®.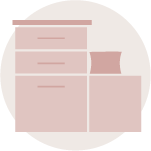 Closet Peninsula 
Add some extra storage and seating space with a functional walk-in closet peninsula.
LET'S DO THIS TOGETHER.
SCHEDULE YOUR FREE CONSULTATION TODAY!
Please share your information below and one of our design consultants will be in touch within 48 hours to set-up a free in-home or virtual consultation.
"*" indicates required fields
Custom Walk-In Closets In Tucson, Arizona
Walk-in closets are designed to fit lots of items, but they're not typically designed with efficiency in mind. All that extra space might mean that your walk-in closet becomes less of a closet and more of a storage space for miscellaneous items. Unfortunately, that sometimes leaves your space unusable — and uninspired. At Inspired Closets Tucson, we create custom closet systems that utilize every inch of existing space, so you're able to easily see every item in your walk-in closet. When we're through you'll have more space than you ever thought possible.
Using our four-step process, we design and install intuitive walk-in closets in Tucson homes. The process begins with a consultation, where we measure your existing closet space and take inventory of the items that need to be stored inside. We also talk with you to understand what you do and don't like about your closet. This information allows our designers to create custom walk-in closet designs that complement your life. They'll implement space-saving features like hanging rods, built-in drawers, or even a Shoe Shrine® to store and display your boots and sneakers.
Once you've approved the design, we begin the closet installation process. Our skilled team works quickly and efficiently to ensure expert installation that doesn't disrupt your life. We know you'll love your custom walk-in closet system. Call us today to get started or stop by our Tucson showroom to envision your new walk-in closet in person.
Learning Center
We invite you to visit the Inspired Closets Learning Center. Our library of resources are sure to help you learn more about custom home organization and provide you with tips and ideas to tackle your next project.
Learn More