Serena, HI
"If you need to get your closets redone, Organized Hawaii is the way to go. We got all of our closets redone because our closets were old and falling apart. Organized Hawaii was great to work with. They came out to check out our closets and give us an estimate. They were also helpful because we didn't know how we wanted to design our closets. They helped us to draw out designs for each closet.
They have high quality wood and their prices were comparable to other places. Their customer service is wonderful and that's one of the reasons why we chose them to do our closets.
They came at 8:30 today and they were done by 12:30.  They did four rooms and a hall closet all in that time.
So if you want your closets redone, call them right away. They get booked up really fast."
"The process was glitch-free. The materials arrived on time and the installation was flawless. The final results exceeded our expectations!"
Watch Kathleen – Treasure Coast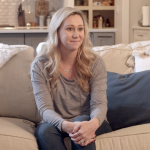 "This entire process was a lot easier than I expected. We were able to see our closet in 3D, making it easy for us to envision what we wanted. I am very pleased with the final result of my closet and my experience with Inspired Closets was just a dream come true!"
Watch Natalie's Story
"David and his son did an outstanding job with our master bedroom closet. They arrived on time, did a very professional job, cleaned up and finished on schedule. And, my wife and I love the remodeled closet. We highly recommend Inspired Closets for all your storage projects!"
Watch Steve F. – Delmarva