Free design consultation
Custom design
Professional installation
Key Features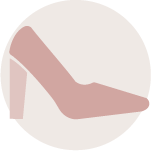 Shoe Shrine®
Create a dedicated space for tall boots and high heels.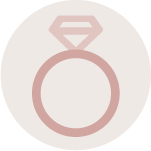 Jewelry Organization
Keep favorite pieces safe, accessible, and tangle-free.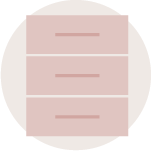 Shaker Drawer Fronts
Add a modern look and feel to closet drawers and doors.
LET'S DO THIS TOGETHER.
SCHEDULE YOUR FREE CONSULTATION TODAY!
Please share your information below and one of our design consultants will be in touch within 48 hours to set-up a free in-home or virtual consultation.
Custom Closets in Tampa, Florida
What would your life be like with a well-organized closet? A closet that makes it easy to put things away and even easier to find them when you need them. With a custom closet system, your mornings are instantly easier — and life feels much simpler. Our team of expert closet organizers in Tampa creates custom designs for each client's needs because we believe that an organized home is a happier, calmer home.
Every closet is different, and so is every closet created by our team. Our Florida closet designers and installers can tailor home organization solutions to your unique needs. No matter a closet's shape or size, we'll find a way to transform it beyond expectations. Once our expert installers finish building your new closet, you'll be amazed at how easy it is to find what you're looking for. Here, you'll learn about the custom closets we install, including walk-in, reach-in, and boutique closets.
Custom Walk-In Closets in Tampa
Walk-in closets are designed to provide extra space, but are you using that space as efficiently as possible? Our design team employs organizational solutions including double-hang and long-hang sections, hideaway hampers, jewelry trays, and even a Shoe Shrine® to utilize every inch of available space. Browse our walk-in closet designs to see what your new closet could look like.
Custom Reach-In Closets in Tampa
Reach-in closets can feel small, but yours won't when we transform it with a custom organization design. Our team will use intuitive methods including drawers, hanging rods, shelves, and more to maximize your existing closet space. We can also install sliding trays, vertical cubbies, and built-in drawers for ultimate organization. Take a look at some of our reach-in closet designs to find out more.
Custom Boutique Closets in Tampa
Your four-walled closet may seem spacious, but have you tried adding some extra inspiration? Our team creates custom boutique closet designs to transform your space with features like walk-in closet islands and beautiful lighting. With our designs, your existing closet space will feel like a custom dressing room. View our boutique closet designs to learn more.
Your closet designs are tailored to your specifications, so the possibilities are endless. Our Florida closet designers are dedicated to creating functional, practical organization systems that make it easy to organize your clothing. We recommend hardware and colors to match your existing design and coordinate beautifully with your home decor. Our Tampa clients love working with us because we listen to their concerns and design solutions that solve problems. Read our client testimonials here to see what your experience might be like.
We've created a simple four-step process that streamlines closet design and installation. We've helped countless clients in areas around Tampa, including the Bay Area, Clearwater, Clearwater Beach, St. Petersburg, and Hillsborough County. Give us a call today or fill out a form online to learn more about our custom closet services. You can also stop by our Tampa showroom to imagine your new space in person.
Learning Center
We invite you to visit the Inspired Closets Learning Center. Our library of resources are sure to help you learn more about custom home organization and provide you with tips and ideas to tackle your next project.
Learn More