How To

Organize Purses
in Your Closet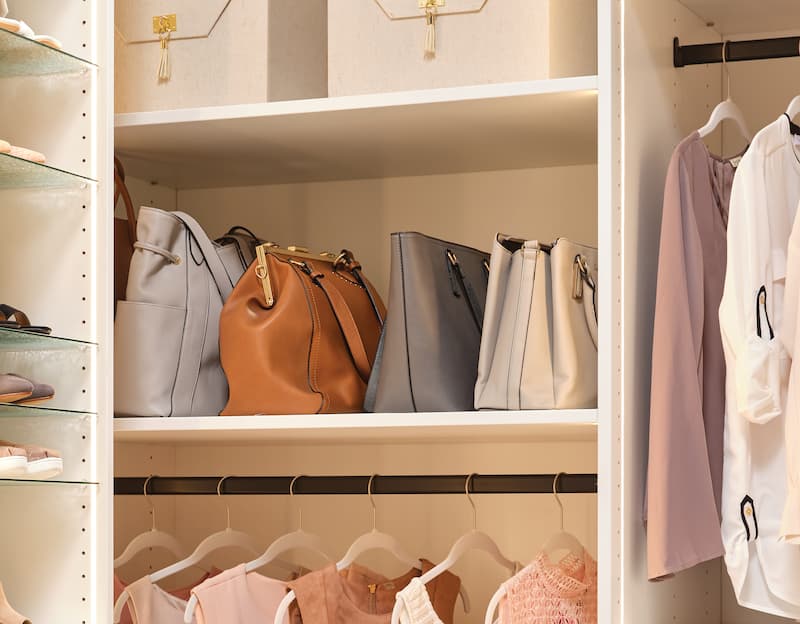 They say purses are like friends… you can never have too many. From clutches and crossbodies to backpacks, bucket bags, and totes, nothing haunts us more than the purse we didn't get, except maybe how to organize purses in our closet and the mess of purses crammed onto the shelf in our closet. While purses top the list of most useful accessories, purse storage and understanding how to organize purses in a closet seems to elude us. But like a tried-and-true best friend, our purse is there when we need it–that is, when we can find it. If organizing handbags in a closet has you frustrated, we can help.
Speaking of lost and found and lost again, if you're like us, your purse is sitting somewhere along the path from the car to the closet and never in the same place twice. Most often found sitting on the kitchen counter, kitchen island, hanging from a chair, or sitting in the corner of a nearby couch, suddenly the purse you need and love becomes the frustration you don't. With so much on your mind, your purse, like other accessories (ahem… keys, sunglasses), is easily set down in various spots and often found in different locations throughout the house. Without a dedicated spot, your purse storage becomes a point of frustration and always at the most inopportune time.
If you're longing for a better way to organize handbags in your closet, it might be time to take the next step in your handbag organization game. Below are our tips for better handbag storage that will simplify your life.
Schedule Your Free Design
Consultation Today